Product Description
| | |
| --- | --- |
| item | value |
| Warranty | 1 year |
| Applicable Industries | Manufacturing Plant, Construction works , Energy & Mining, Other |
| Customized support | OEM |
| Gearing Arrangement | Worm |
| Output Torque |    118-160N.M |
| Place of Origin | ZheJiang , China |
| Input speed |   1400rpm |
| Output speed |   14-186.7rpm |
| Ratio | 7.5,10,15,20,25,30,40,50,60,80,100 |
| Material |    Aluminum alloy Die casting |
| Product name |    NRV Worm Gear Reducer |
| MOQ | 10pcs |
| Color | Customization |
PRODUCTS CHARACTERISTICS
1. Mad of high-quality aluminum alloy,light weight and non-rusting
2. Large output torque
3. Smooth in running and low in noise,can work long time in dreadful conditions.
4. High in radiating efficiency.
5. Good-looking in appearance,durable in service life and small in volume.
6. Suitable for omnibearing installation.
FAQ
Q1:Are you a manufacturer or trading company?
 Yes, We are a leading manufacturer specialized in production of various kinds of small and medium-sized
 motor.
Q2:How to choose a gearbox which meets our requirement?
You can refer to our catalogue to choose the gearbox or we can help to choose when you provide
the technical information of required output torque, output speed and motor parameter etc.
Q3:What information shall we give before placing a purchase order?
a) Type of the gearbox, ratio, input and output type, input flange, mounting position, and motor information etc.
b) Housing color.
c) Purchase quantity.
d) Other special requirements.
Q4:What industries are your gearboxes being used?
Our gearboxes are widely used in the areas of textile, food processing, beverage, chemical industry, escalator,automatic storage equipment, metallurgy, tabacco, environmental protection, logistics and etc.
Q5:How about your delivery time?
For micro brush dc gear motor, the sample delivery time is 2-5 days, bulk delivery time is about 15-20 days, depends on the order qty. For brushless dc motor, the sample deliver time is about 10-15 days; bulk time is 15-20 days.Please take the sales confirmation for final reference.
Q6:What's your warranty terms?
One year
 
| | |
| --- | --- |
| Application: | Motor, Electric Cars, Motorcycle, Machinery, Marine, Agricultural Machinery, Car |
| Function: | Distribution Power, Clutch, Change Drive Torque, Change Drive Direction, Speed Changing, Speed Reduction, Speed Increase |
| Layout: | as for Request |
| Hardness: | Hardened Tooth Surface |
| Installation: | as for Request |
| Step: | as for Request |
Samples:

US$ 38/Piece

1 Piece(Min.Order)

|
Request Sample
Customization:

Available

|

Customized Request
Common Problems and Troubleshooting for Worm Gearboxes
Worm gearboxes, like any mechanical component, can experience various issues over time. Here are some common problems that may arise and possible troubleshooting steps:
Overheating: Overheating can occur due to factors such as inadequate lubrication, excessive loads, or high operating temperatures. Check lubrication levels, ensure proper ventilation, and reduce loads if necessary.
Noise and Vibration: Excessive noise and vibration may result from misalignment, worn gears, or improper meshing. Check for misalignment, inspect gear teeth for wear, and ensure proper gear meshing.
Leakage: Oil leakage can be caused by damaged seals or gaskets. Inspect seals and gaskets, and replace them if necessary.
Reduced Efficiency: Efficiency loss can occur due to friction, wear, or misalignment. Regularly monitor gearbox performance, ensure proper lubrication, and address any wear or misalignment issues.
Backlash: Excessive backlash can affect precision and accuracy. Adjust gear meshing and reduce backlash to improve performance.
Seizure or Binding: Seizure or binding can result from inadequate lubrication, debris, or misalignment. Clean the gearbox, ensure proper lubrication, and address misalignment issues.
Worn Gears: Worn gear teeth can lead to poor performance. Regularly inspect gears for signs of wear, and replace worn gears as needed.
Seal Wear: Seals can wear over time, leading to leakage and contamination. Inspect seals regularly and replace them if necessary.
If you encounter any of these problems, it's important to address them promptly to prevent further damage and maintain the performance of your worm gearbox. Regular maintenance, proper lubrication, and addressing issues early can help extend the lifespan and reliability of the gearbox.
Worm Gearbox vs. Helical Gearbox: A Comparison
Worm gearboxes and helical gearboxes are two popular types of gear systems, each with its own set of advantages and disadvantages. Let's compare them:
| | | |
| --- | --- | --- |
| Aspect | Worm Gearbox | Helical Gearbox |
| Efficiency | Lower efficiency due to sliding friction between the worm and worm wheel. | Higher efficiency due to rolling contact between helical gear teeth. |
| Torque Transmission | Excellent torque transmission and high reduction ratios achievable in a single stage. | Good torque transmission, but may require multiple stages for high reduction ratios. |
| Noise and Vibration | Generally higher noise and vibration levels due to sliding action. | Lower noise and vibration levels due to smoother rolling contact. |
| Backlash | Higher inherent backlash due to the design. | Lower backlash due to meshing of helical teeth. |
| Efficiency at Higher Speeds | Less suitable for high-speed applications due to efficiency loss. | More suitable for high-speed applications due to higher efficiency. |
| Overload Protection | Natural self-locking feature provides some overload protection. | May not have the same level of inherent overload protection. |
| Applications | Commonly used for applications requiring high reduction ratios, such as conveyor systems and heavy-duty machinery. | Widely used in various applications including automotive transmissions, industrial machinery, and more. |
Both worm and helical gearboxes have their place in engineering, and the choice between them depends on the specific requirements of the application. Worm gearboxes are preferred for applications with high reduction ratios, while helical gearboxes are chosen for their higher efficiency and smoother operation.
What is a Worm Gearbox and How Does It Work?
A worm gearbox, also known as a worm gear reducer, is a mechanical device used to transmit rotational motion and torque between non-parallel shafts. It consists of a worm screw and a worm wheel, both of which have helical teeth. The worm screw resembles a threaded cylinder, while the worm wheel is a gear with teeth that mesh with the worm screw.
The working principle of a worm gearbox involves the interaction between the worm screw and the worm wheel. When the worm screw is rotated, its helical teeth engage with the teeth of the worm wheel. As the worm screw rotates, it translates the rotational motion into a perpendicular motion, causing the worm wheel to rotate. This perpendicular motion allows the worm gearbox to achieve a high gear reduction ratio, making it suitable for applications that require significant speed reduction.
One of the key features of a worm gearbox is its ability to provide a high gear reduction ratio in a compact design. However, due to the sliding nature of the meshing teeth, worm gearboxes may exhibit higher friction and lower efficiency compared to other types of gearboxes. Therefore, they are often used in applications where efficiency is not the primary concern but where high torque and speed reduction are essential, such as conveyor systems, elevators, automotive steering systems, and certain industrial machinery.



editor by CX 2023-09-21
Solution Description
Precision Worm Gearhead stainless metal worm equipment velocity reducer gearbox 
PW series precision worm gearhead is a new generation of items with the sophisticated systems. Worm material is 42CrMo, and its hardness of tooth surface area is 50~60HRC, which has the higher put on resistance, shock resistance and toughness worm wheel materials is aluminium bronze, which has excellent put on resistance.
Key features:
Backlash, ≤1 arcmin
Self-locking
Higher input velocity, up to 6000rpm
Precision worm gearhead Design :PW2030
Gearhead Information :
Reduction : 30:1
Rated power(W) : a hundred thirty five
Rated output torque (N·m) : forty
Emergency cease torque (N·m) : 110
Rated enter pace (rpm) :4000
Maximum input pace (rpm) : 6000
Self-locking :Yes.
No-load backlash(arcmin) :≤1
Common mass inertia(kg.cm2) : 2.six
Highest performance : 53%
Bodyweight (kg) : 2.seven
Complex Data
Radial load(N) : 1000
Centre dist.(mm) : forty five.5
Ingress protection: IP65
Procedure temperature(ºC): -twenty~+80
Gorgeous appearance and steady design and style.Standardized condition, and the look is more gorgeous and stable than the previous goods.
Optimization design of every portion including the case has improved composition strength and life time. Optimized style of scenario, worm gear, worm and protect substantially enhanced the framework strength and life span of each and every portion.
Production of motor flange kind or motor connected type has enhanced person convenience.
Reduction gear ratio : 20:1 30:1 forty:1 fifty:1 sixty:1 .
worm reduction equipment has extensive range of option for Power  and reduction equipment ratio,and obtaining diverse solution varieties like Up Kind, Base Type, Vertical Kind , it can satisfy various client requirements.worm gearboxes offer customers a higher torque output multiplier and are CZPT to stand up to shock loading greater than other designs. Worm gear reducers are also low expense and compact.Worm gearboxes are employed to consider a rated motor speed and create a reduced-pace, large torque output based on the reduction ratio, offering users a variety of positive aspects.
Worm gear established advantages:
Straightforward and functional shaft mounting
Noiselessness, continuous performance, also for the heaviest purposes
High overall performance and dependability
Decrease energy usage
Extended life
Potent and very effective high-grade worm reducer
We are a manufacturing unit specialized in metal areas components & metallic gearbox geared motor .We companies with ODM/OEM gearbox design and improvement , gearmotors manufacture.
A  gearbox is  with the enter shaft and output shaft aligned it provides substantial torque transmission with very good stiffness and lower sound , in a more compact foot print than other gearbox types . It can source a great deal of pace reduction and torque in a modest package deal with the set axis .Gearbox is make sure that it gives very exact equipment engagement, easy working and minimum sound and give the capability to boost the torque and reduce the pace of an electric powered motor.
Welcome OEM and ODM assignments . 
 
Worm Reducer – What You Need to Know
When shopping for a Worm Reducer, it is important to consider the functions and features of the unit. It is also important to take into account its cost. We will take a look at the different types of worm reducers and the applications that they can be used for. This will help you choose the right unit for your application.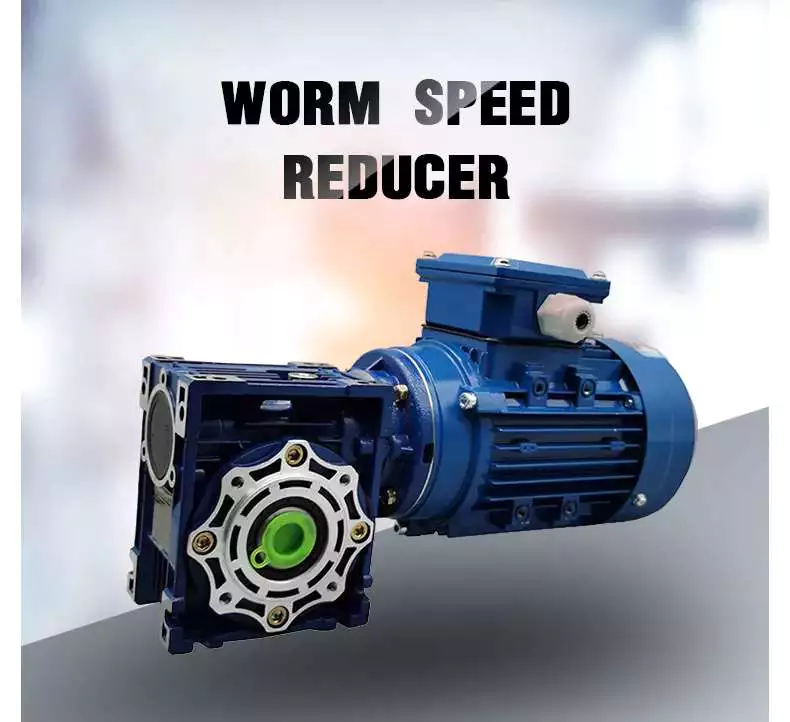 Features
Worm gears are popular in instruments that require fast stopping, such as elevators and lifts. Their soft materials allow them to absorb shock, which reduces the likelihood of failure. They are also beneficial in heavy-duty machines, such as rock crushers. Some manufacturers offer special worms with zero backlash and high-accuracy reduction.The worm reducer has a variety of features, including an axial pitch and a circular pitch. The axial pitch of the worm must match the circular pitch of the larger gear. Its threads are left or right-handed, and its lead angle is the distance a point on the thread travels during a revolution of the worm.The worm gear reducer is widely available, and gear manufacturers typically maintain a large inventory of them. Because worm gears are standardized, their mounting dimensions are generally uniform across manufacturers. This means that choosing one will not require you to change the height, length, or diameter of the output shaft. Worm gear reducers also have dimensional consistency.Worm gears are very efficient. They have a high load capacity and a low friction coefficient. The worm gears also have a precise tooth profile, which reduces speed fluctuations and allows for quiet operation.
Functions
Worm gears have different functions. They can be used in a variety of applications. For instance, they can be used in elevators to reduce the load on the elevator. These gears also have low noise levels because they are made of dissimilar metals. Moreover, these gears can be used in elevators because they are suitable for this type of application. However, they need a single stage reducer to function properly.Another important feature of a worm reducer is that it can operate in reverse. This means that the input shaft turns backwards, while the output shaft rotates forwards. Examples of such applications include hand-cranked centrifuges, blacksmithing forge blowers, and the wind governor of musical boxes. Worm gears are available in different shapes and sizes, from gearsets to housed units. They can also be configured as multi-speed designs. Some manufacturers also offer special precision and zero-backlash worms.A worm reducer's tooth form is important in determining the capacity of the device. Typically, a single-lead worm gear has the same lead on the left and right tooth surfaces, although a dual-lead worm gear has different leads on each side. This feature helps to eliminate play in the worm gear. However, it is important to note that a worm reducer can be manufactured with different tooth shapes for different applications.The worm gear is an alternative to conventional gears. It operates in a similar fashion to ordinary gear drives. The main advantage of a worm gear is that it is able to reduce the rotational speed and torque of a rotating shaft. It also has the added benefit of being able to transfer motion at an angle of 90 degrees. The only drawback of a worm gear is that it cannot reverse motion.
Applications
This market report analyzes the Worm Reducer market from a global perspective. It includes a comprehensive analysis of the current market trends and future growth prospects. It also provides information about the competitive landscape and the main players in the industry. The report also highlights the key factors affecting the growth of the Worm Reducer market.
The major regional markets for the Worm Reducer include North America, Asia-Pacific, the Middle East and Africa, Latin America, and Europe. The market in these regions is likely to remain stable with a limited growth over the next few years. A worm gear is a small mechanical device that is connected to a larger gear. When connected together, it produces a low output speed but high torque.The gearing on a worm drive can be right-hand or left-hand, and can turn clockwise or counter-clockwise. Depending on the worm's helix angles, back-driving and friction can be reduced. Worm gears are available in housed units or in gearsets. Some manufacturers offer integrated servomotors and multi-speed designs. High-accuracy and zero-backlash worms are available.Worm gears are particularly popular in instruments that require fast stops. They are also commonly found in elevators and lifts. Their soft nature and low-shock characteristics make them highly suitable for these types of machines.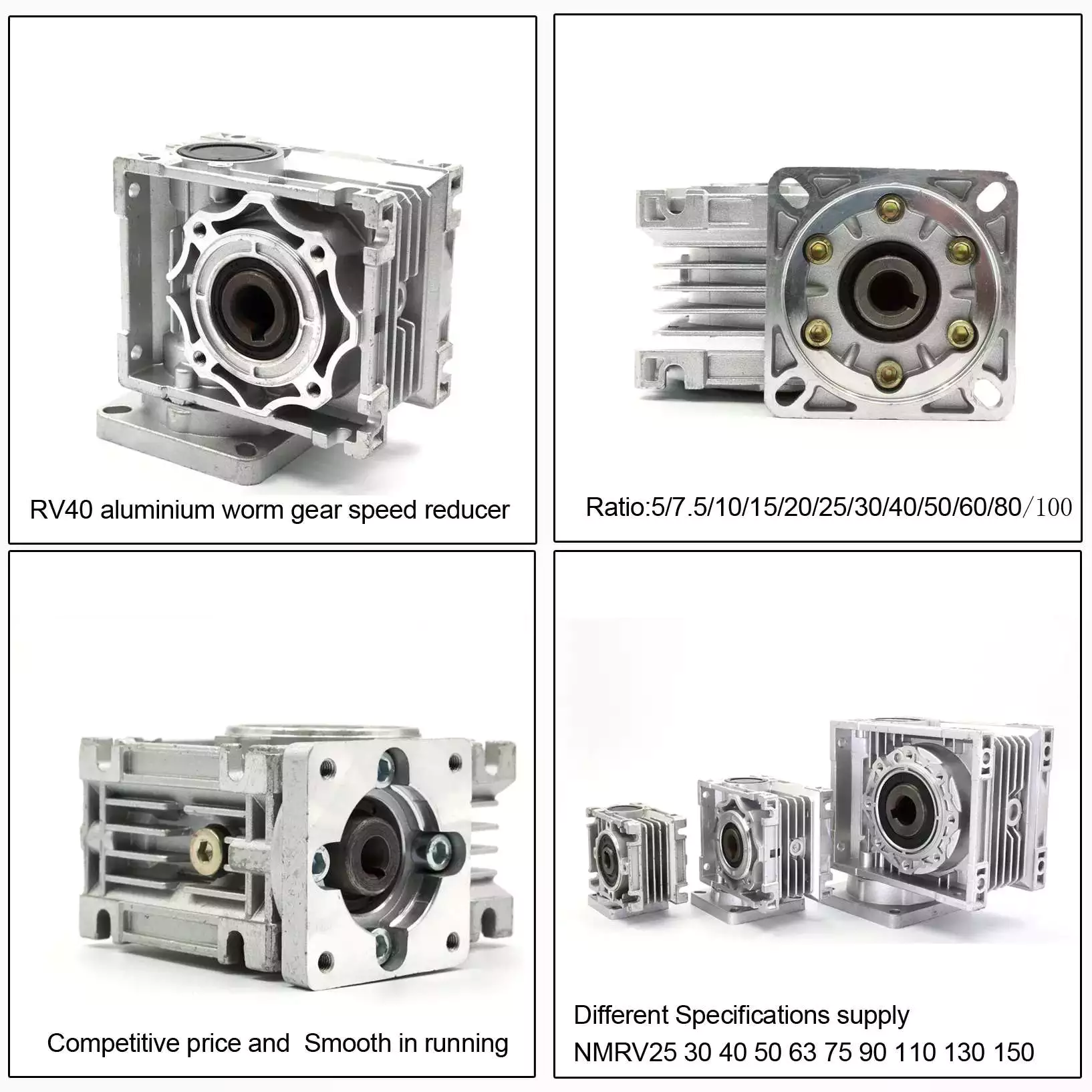 Cost
Cost is an important consideration when selecting a worm reducer. The initial cost of a worm gear reducer is considerably lower than other types of gear reducers. Worm gear reducers are also more energy-efficient, and have higher overload capacities than competitive systems. The following are factors that affect the cost of a worm gear reducer.Stainless steel worm gear reducers from WorldWide Electric offer great value for the money. They offer flange input and hollow output bore sizes, as well as center distances ranging from 1.75″ to 3.25″. In addition to the standard version, a stainless steel bushing kit is available, which allows users to use a wider range of head shaft sizes. Stainless steel worm gear reducers are available in stock from all six of WorldWide Electric's regional warehouses. They also come with free prepaid freight.Worm gear reducers are often used in power transmission systems, elevators, conveyor belts, and medical equipment. In these applications, they are used to control the speed of a load and prevent it from freefall. While worm gear reducers are not as efficient as helical gearboxes, they are still very useful for applications that require high torque or high output rates.To select the right type of worm for your application, you should consider the number of teeth it contains. It's best to select worms with a combined total of 40 teeth or more.
aspect
Worm reducers vary in size. They have one, two or more threads. Each thread has a lead angle. A high ratio has more teeth than a low gear, and a low ratio has fewer teeth. These differences are the result of gearing. The size of the worm gear reducer should be selected according to the specific application.The worm gear reducer saves space and provides more torque. Agknx Gearbox has created a variety of models to overcome common deceleration challenges, from standard to hygienic markets. The superior transmission Agknx range is designed to solve common deceleration challenges and expand to meet the needs of the sanitary industry.The diameter of the worm reducer is an important consideration. Its diameter should be equal to or slightly larger than the diameter of the grinding wheel or tool. This will affect the pressure angle. The pressure angle on a worm reducer depends on several factors, including its diameter and lead angle. The diameter of the grinding wheel or tool also has an effect on the profile of the worm.Worm gear reducers are common. Many gear manufacturers have large stocks of these gear reducers. Since gears are standardized, the mounting dimensions of worm gears are also common among manufacturers. This makes it easy to select a worm gear reducer for your application. In addition, the worm gear reducer is easy to install and maintain.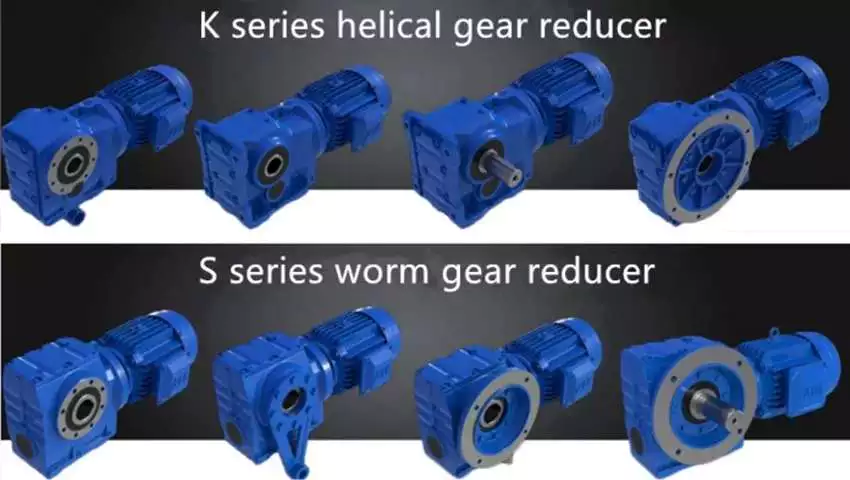 Worm gear reducer oil
Worm gear reducers usually use gear oil. Several types of gear oils are available, including synthetic, polyalkylene glycol, and mineral oils. The oil used in the worm gear reducer must have the right viscosity for the gear. Some oils are more corrosive than others and should be avoided if the environment is toxic.The oil of the worm gear reducer must be protected against corrosion, wear and friction. It is best to choose a lubricant with low friction rate, high oxidation resistance and good anti-wear protection. While mineral oils are the most common type of lubricant, synthetic base oils can improve gear efficiency and reduce operating temperatures. This is because the Arrhenius rate rule states that the chemical reaction in the oil doubles for every 10 degrees Celsius increase in temperature.Worm gear reducers are available in a variety of sizes and configurations. They are suitable for all kinds of machines and equipment. The sliding action between the worm gear and the output shaft produces high torque and high efficiency. If the transmission speed is low, the worm gear and output shaft can be combined for maximum efficiency.Worm gear reducers require less frequent oil changes than other types of gear reducers. However, regular oil should be changed every six months or 2,500 hours, whichever comes first. Also, it is a good idea to regularly monitor the oil level to prevent lubrication-related gearbox failures. It's also wise to use synthetic oil, as it will last longer between oil changes.


Warranty: 1 year
Applicable Industries: Hotels, Garment Shops, Building Material Shops, Manufacturing Plant, HLTNC Durable 775 795 895 Spindle motor 3000-12000 RPM Brush dc motors 775 150W lawn mower motor with 2 ball bearing Rated Machinery Repair Shops, Food & Beverage Factory, Farms, Restaurant, High quality ES 200 belt tension device automatic door return pulley Retail, Food Shop, Printing Shops, Construction works , Wire rope triple wheel pulley Block, Snatch Block Energy & Mining, Food & Beverage Shops, Advertising Company
Customized support: OEM, ODM, High quality SK60-5 SK75UR SK70 SK75 excavator Swing Motor Assy Swing Rotary Motor YR32W00002F1 Swing Gearbox OBM
Gearing Arrangement: Cycloidal
Output Torque: 14Nm-2000 Nm
Input Speed: 2000rpm-10000rpm
Output Speed: 20rpm-6000rpm
Ratio: 4-100
Efficiency: 95%
ABacklash: <3arcmin
Bearing: C&U
planetary wheel drive planetary reduction gearbox transmission gearbox helical bevel electric motor gearbox
Certifications
Trade Shows
Packaging & Shipping
Company Information
other series productPrecision Planetary gearboxRobot RV gearbox speed reducerCustom made Non-standard GearboxUDL Series VariatorPYZ Series Helical Tooth Shaft Mounted Reducer8000 Series Cycloidal ReducerSLT Series Spiral Bevel GearboxSLSWL Series Worm Screw JackSLP Series Planetary ReducerSLH/SLB Series High Power ReducerNMRV Series Worm ReducerBKM Series Helical-hypoid ReducerSLRC Series Helical ReducerSLSMR Series Shaft Mounted ReducerSLXG Series Shaft Mounted ReducerX/B Series Cycloidal ReducerSLR/SLF/SLK/SLS Series Helical Reducer
Related Products
ContactPlease scan code add me!
1357120617
Key Market Insights Related to Worm Reduction Gearboxes
A gearbox is a mechanical device that allows you to shift between different speeds or gears. It does so by using one or more clutches. Some gearboxes are single-clutch, while others use two clutches. You can even find a gearbox with closed bladders. These are also known as dual clutches and can shift gears more quickly than other types. Performance cars are designed with these types of gearboxes.


Backlash measurement
Gearbox backlash is a common component that can cause noise or other problems in a car. In fact, the beats and sets of gears in a gearbox are often excited by the oscillations of the engine torque. Noise from gearboxes can be significant, particularly in secondary shafts that engage output gears with a differential ring. To measure backlash and other dimensional variations, an operator can periodically take the output shaft's motion and compare it to a known value.
A comparator measures the angular displacement between two gears and displays the results. In one method, a secondary shaft is disengaged from the gearbox and a control gauge is attached to its end. A threaded pin is used to secure the differential crown to the secondary shaft. The output pinion is engaged with the differential ring with the aid of a control gauge. The angular displacement of the secondary shaft is then measured by using the dimensions of the output pinion.
Backlash measurements are important to ensure the smooth rotation of meshed gears. There are various types of backlash, which are classified according to the type of gear used. The first type is called circumferential backlash, which is the length of the pitch circle around which the gear rotates to make contact. The second type, angular backlash, is defined as the maximum angle of movement between two meshed gears, which allows the other gear to move when the other gear is stationary.
The backlash measurement for gearbox is one of the most important tests in the manufacturing process. It is a criterion of tightness or looseness in a gear set, and too much backlash can jam a gear set, causing it to interface on the weaker part of its gear teeth. When backlash is too tight, it can lead to gears jamming under thermal expansion. On the other hand, too much backlash is bad for performance.
Worm reduction gearboxes
Worm reduction gearboxes are used in the production of many different kinds of machines, including steel and power plants. They are also used extensively in the sugar and paper industries. The company is constantly aiming to improve their products and services to remain competitive in the global marketplace. The following is a summary of key market insights related to this type of gearbox. This report will help you make informed business decisions. Read on to learn more about the advantages of this type of gearbox.
Compared to conventional gear sets, worm reduction gearboxes have few disadvantages. Worm gear reducers are commonly available and manufacturers have standardized their mounting dimensions. There are no unique requirements for shaft length, height, and diameter. This makes them a very versatile piece of equipment. You can choose to use one or combine several worm gear reducers to fit your specific application. And because they have standardized ratios, you will not have to worry about matching up multiple gears and determining which ones fit.
One of the primary disadvantages of worm reduction gearboxes is their reduced efficiency. Worm reduction gearboxes usually have a maximum reduction ratio of five to sixty. The higher-performance hypoid gears have an output speed of around ten to twelve revolutions. In these cases, the reduced ratios are lower than those with conventional gearing. Worm reduction gearboxes are generally more efficient than hypoid gear sets, but they still have a low efficiency.
The worm reduction gearboxes have many advantages over traditional gearboxes. They are simple to maintain and can work in a range of different applications. Because of their reduced speed, they are perfect for conveyor belt systems.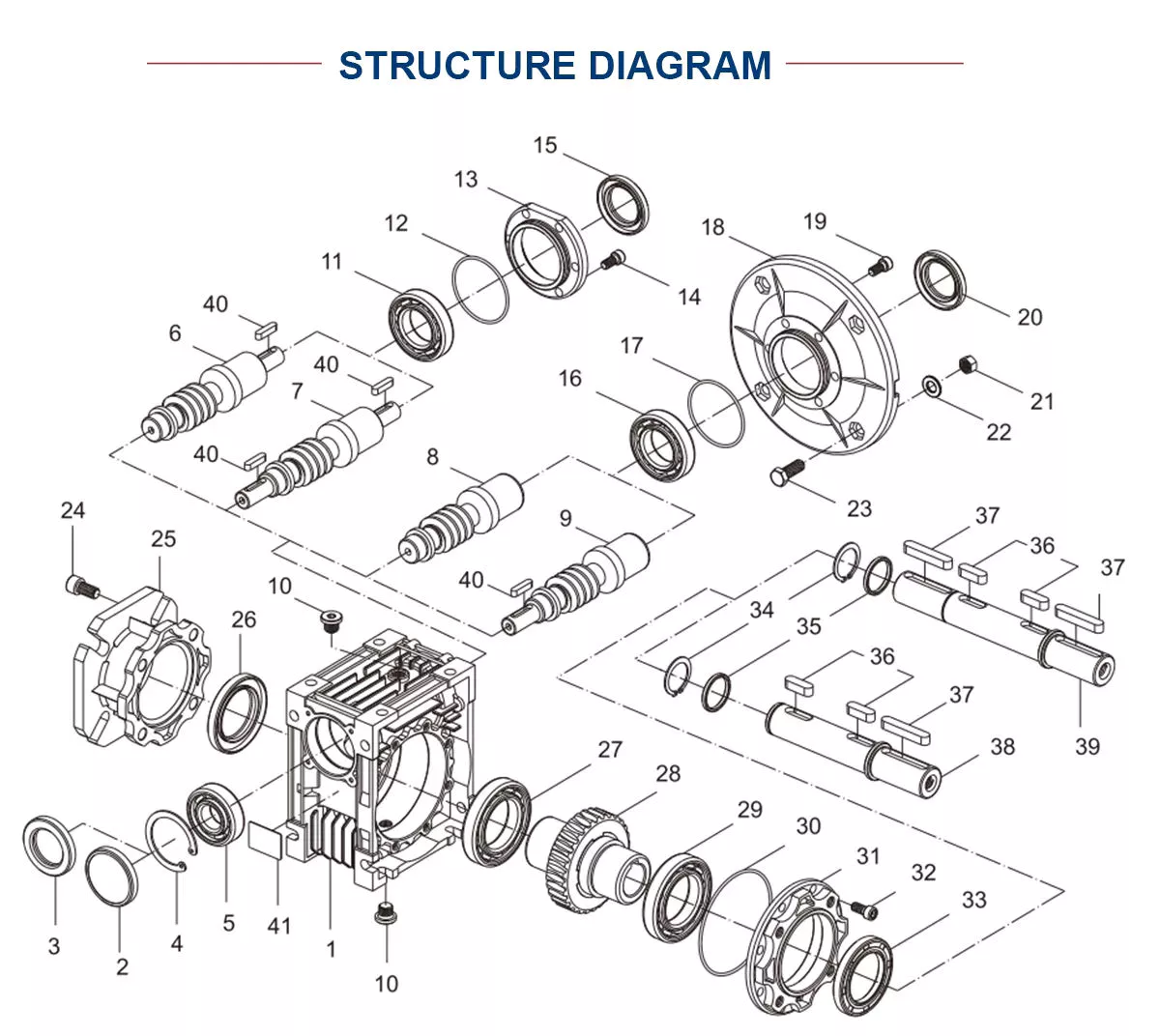 Worm reduction gearboxes with closed bladders
The worm and the gear mesh with each other in a combination of sliding and rolling movements. This sliding action is dominant at high reduction ratios, and the worm and gear are made of dissimilar metals, which results in friction and heat. This limits the efficiency of worm gears to around thirty to fifty percent. A softer material for the gear can be used to absorb shock loads during operation.
A normal gear changes its output independently once a sufficient load is applied. However, the backstop complicates the gear configuration. Worm gears require lubrication because of the sliding wear and friction introduced during movement. A common gear arrangement moves power at the peak load section of a tooth. The sliding happens at low speeds on either side of the apex and occurs at a low velocity.
Single-reduction gearboxes with closed bladders may not require a drain plug. The reservoir for a worm gear reducer is designed so that the gears are in constant contact with lubricant. However, the closed bladders will cause the worm gear to wear out more quickly, which can cause premature wear and increased energy consumption. In this case, the gears can be replaced.
Worm gears are commonly used for speed reduction applications. Unlike conventional gear sets, worm gears have higher reduction ratios. The number of gear teeth in the worm reduces the speed of a particular motor by a substantial amount. This makes worm gears an attractive option for hoisting applications. In addition to their increased efficiency, worm gears are compact and less prone to mechanical failure.
Shaft arrangement of a gearbox
The ray-diagram of a gearbox shows the arrangement of gears in the various shafts of the transmission. It also shows how the transmission produces different output speeds from a single speed. The ratios that represent the speed of the spindle are called the step ratio and the progression. A French engineer named Charles Renard introduced five basic series of gearbox speeds. The first series is the gear ratio and the second series is the reverse gear ratio.
The layout of the gear axle system in a gearbox relates to its speed ratio. In general, the speed ratio and the centre distance are coupled by the gear axles to form an efficient transmission. Other factors that may affect the layout of the gear axles include space constraints, the axial dimension, and the stressed equilibrium. In October 2009, the inventors of a manual transmission disclosed the invention as No. 2. These gears can be used to realize accurate gear ratios.
The input shaft 4 in the gear housing 16 is arranged radially with the gearbox output shaft. It drives the lubricating oil pump 2. The pump draws oil from a filter and container 21. It then delivers the lubricating oil into the rotation chamber 3. The chamber extends along the longitudinal direction of the gearbox input shaft 4, and it expands to its maximum diameter. The chamber is relatively large, due to a detent 43.
Different configurations of gearboxes are based on their mounting. The mounting of gearboxes to the driven equipment dictates the arrangement of shafts in the gearbox. In certain cases, space constraints also affect the shaft arrangement. This is the reason why the input shaft in a gearbox may be offset horizontally or vertically. However, the input shaft is hollow, so that it can be connected to lead through lines or clamping sets.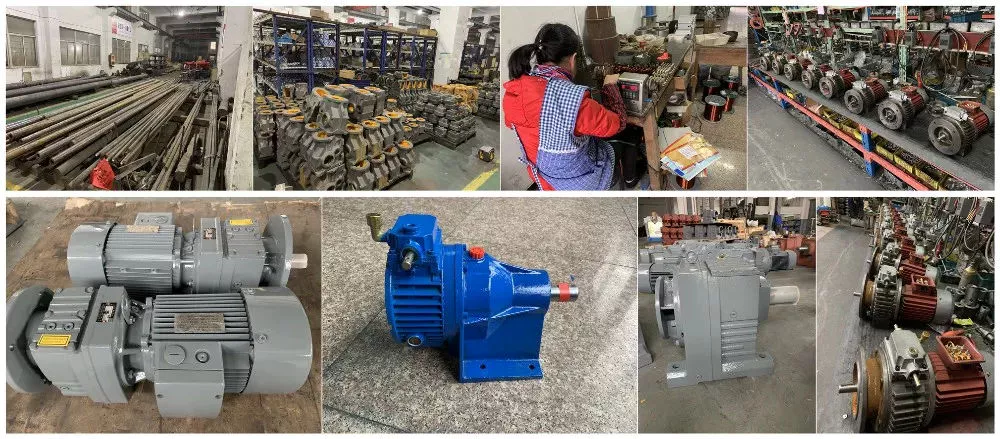 Mounting of a gearbox
In the mathematical model of a gearbox, the mounting is defined as the relationship between the input and output shafts. This is also known as the Rotational Mount. It is one of the most popular types of models used for drivetrain simulation. This model is a simplified form of the rotational mount, which can be used in a reduced drivetrain model with physical parameters. The parameters that define the rotational mount are the TaiOut and TaiIn of the input and output shaft. The Rotational Mount is used to model torques between these two shafts.
The proper mounting of a gearbox is crucial for the performance of the machine. If the gearbox is not aligned properly, it may result in excessive stress and wear. It may also result in malfunctioning of the associated device. Improper mounting also increases the chances of the gearbox overheating or failing to transfer torque. It is essential to ensure that you check the mounting tolerance of a gearbox before installing it in a vehicle.