Product Description
WP Reducer WPA Gear Speed Reducer Worm Gearbox
Components:
1. Housing: Cast Iron
2. Gears: Worm Gears, 1 stage
3. Input Configurations:
Solid Input Shaft
Motor Flange – IEC B5
4. Output Configurations:
Solid Output Shaft
Hollow Output Shaft
Features:
1. Different variants, both input and output shafts can be mounted horizontally or vertically
2. Compact structure
3. Direct drive or indirect drive available
4. Output could be CHINAMFG shaft or hollow hole
Models & Variants:
WPA Series – Lower Input Shaft
WPS Series – Upper Input Shaft
WPDA Series – Lower Input Flange
WPDS Series – Upper Input Flange.
WPO Series – Vertical Upward Output Shaft
WPX Series – Vertical Downward Output Shaft
WPDO Series – Vertical Upward Output Shaft, Input Flange
WPDX Series – Vertical Downward Output Shaft, Input Flange 
Gearbox Parameters
Frame Size
Center Distance
Gear Ratio
WPA40
40
10/1, 15/1, 20/1, 25/1, 30/1, 40/1, 50/1, 60/1
WPA50
50
WPA60
60
WPA70
70
WPA80
80
WPA100
100
WPA120
120
WPA135
135
WPA147
147
WPA155
155
WPA175
175
WPA200
200
Product picture:

Our company :
1.More than 35 years experience in R&D and manufacturing, export gear motors & industrial gearboxes.
2. Standardization of the gearbox series
3. Strong design capability for large power & customized gearboxes.
4.High quality gearboxes and proven solutions provider.
5.Strict quality control process, stable quality.
6 Less than 2% of the quality complaints.
7.Modular design, short delivery time.
8.Quick response & professional services.
Customer visiting:
Our Services:
Pre-sale services
1. Select equipment model.
2.Design and manufacture products according to clients' special requirement.
3.Train technical personal for clients
Services during selling
1.Pre-check and accept products ahead of delivery.
2. Help clients to draft solving plans.
After-sale services
1.Assist clients to prepare for the first construction scheme.
2. Train the first-line operators.
3.Take initiative to eliminate the trouble rapidly.
4. Provide technical exchanging.
FAQ:
1.Q:What kinds of gearbox can you produce for us?
A:Main products of our company: UDL series speed variator,RV series worm gear reducer, ATA series shaft mounted gearbox, X,B series gear reducer,
P series planetary gearbox and R, S, K, and F series helical-tooth reducer, more
than 1 hundred models and thousands of specifications
2.Q:Can you make as per custom drawing?
A: Yes, we offer customized service for customers.
3.Q:What is your terms of payment ?
A: 30% Advance payment by T/T after signing the contract.70% before delivery
4.Q:What is your MOQ?
A: 1 Set
If you have any demand for our products please feel free to contact me.
| | |
| --- | --- |
| Application: | Machinery, Agricultural Machinery |
| Function: | Speed Changing, Speed Reduction |
| Layout: | Right Angle |
| Hardness: | Hardened Tooth Surface |
| Installation: | Horizontal Type |
| Step: | Single-Step |
Customization:

Available

|

Customized Request
What are the Noise Levels Associated with Worm Gearboxes?
The noise levels associated with worm gearboxes can vary depending on several factors, including the design, quality, operating conditions, and maintenance of the gearbox. Here are some key points to consider:
Design and Quality: Well-designed and high-quality worm gearboxes tend to produce lower noise levels. Factors such as gear tooth profile, precision manufacturing, and proper alignment can contribute to reduced noise.
Gear Engagement: The way the worm and worm wheel engage and mesh with each other can impact noise levels. Proper tooth contact and alignment can help minimize noise during operation.
Lubrication: Inadequate or improper lubrication can lead to increased friction and wear, resulting in higher noise levels. Using the recommended lubricant and maintaining proper lubrication levels are important for noise reduction.
Operating Conditions: Operating the gearbox within its specified load and speed limits can help prevent excessive noise generation. Overloading or operating at high speeds beyond the gearbox's capabilities can lead to increased noise.
Backlash: Excessive backlash or play between the gear teeth can lead to impact noise as the teeth engage. Proper backlash adjustment can help mitigate this issue.
Maintenance: Regular maintenance, including gear inspection, lubrication checks, and addressing any wear or damage, can help keep noise levels in check.
It's important to note that while worm gearboxes can produce some noise due to the nature of gear meshing, proper design, maintenance, and operation can significantly reduce noise levels. If noise is a concern for your application, consulting with gearbox manufacturers and experts can provide insights into selecting the right gearbox type and implementing measures to minimize noise.
Energy Efficiency of a Worm Gearbox: What to Expect
The energy efficiency of a worm gearbox is an important factor to consider when evaluating its performance. Here's what you can expect in terms of energy efficiency:
Typical Efficiency Range: Worm gearboxes are known for their compact size and high gear reduction capabilities, but they can exhibit lower energy efficiency compared to other types of gearboxes. The efficiency of a worm gearbox typically falls in the range of 50% to 90%, depending on various factors such as design, manufacturing quality, lubrication, and load conditions.
Inherent Losses: Worm gearboxes inherently involve sliding contact between the worm and worm wheel. This sliding contact generates friction, leading to energy losses in the form of heat. The sliding action also contributes to lower efficiency when compared to gearboxes with rolling contact.
Helical-Worm Design: Some manufacturers offer helical-worm gearbox designs that combine elements of helical and worm gearing. These designs aim to improve efficiency by incorporating helical gears in the reduction stage, which can lead to higher efficiency compared to traditional worm gearboxes.
Lubrication: Proper lubrication plays a significant role in minimizing friction and improving energy efficiency. Using high-quality lubricants and ensuring the gearbox is adequately lubricated can help reduce losses due to friction.
Application Considerations: While worm gearboxes might have lower energy efficiency compared to other types of gearboxes, they still offer advantages in terms of compactness, high torque transmission, and simplicity. Therefore, the decision to use a worm gearbox should consider the specific requirements of the application, including the trade-off between energy efficiency and other performance factors.
When selecting a worm gearbox, it's essential to consider the trade-offs between energy efficiency, torque transmission, gearbox size, and the specific needs of the application. Regular maintenance, proper lubrication, and selecting a well-designed gearbox can contribute to achieving the best possible energy efficiency within the limitations of worm gearbox technology.
What is a Worm Gearbox and How Does It Work?
A worm gearbox, also known as a worm gear reducer, is a mechanical device used to transmit rotational motion and torque between non-parallel shafts. It consists of a worm screw and a worm wheel, both of which have helical teeth. The worm screw resembles a threaded cylinder, while the worm wheel is a gear with teeth that mesh with the worm screw.
The working principle of a worm gearbox involves the interaction between the worm screw and the worm wheel. When the worm screw is rotated, its helical teeth engage with the teeth of the worm wheel. As the worm screw rotates, it translates the rotational motion into a perpendicular motion, causing the worm wheel to rotate. This perpendicular motion allows the worm gearbox to achieve a high gear reduction ratio, making it suitable for applications that require significant speed reduction.
One of the key features of a worm gearbox is its ability to provide a high gear reduction ratio in a compact design. However, due to the sliding nature of the meshing teeth, worm gearboxes may exhibit higher friction and lower efficiency compared to other types of gearboxes. Therefore, they are often used in applications where efficiency is not the primary concern but where high torque and speed reduction are essential, such as conveyor systems, elevators, automotive steering systems, and certain industrial machinery.



editor by CX 2023-10-10
Product Description
Product Description
| | |
| --- | --- |
| Item No.: | FCDASeries |
| Ratio and Shaft: | OEM acceptable |
| Key word | Aluminium Worm Gearbox |
Company Profile
HangZhou Hengni Machinery Co., Ltd. was founded in 2571 by Ms. Iris and her 2 partners (Mr. Tian and Mr. Yang) in HangZhou City, ZHangZhoug Province, China. All 3 founders are average senior engineers. Due to business expansion, the company moved to its current location in Xihu (West Lake) Dis. Industrial Zone (HangZhou, ZHangZhoug Province, China) in 2014.
We specialize in a full line of spiral bevel gearboxes, spur gearboxes, spur gearboxes, drive shafts, sheet metal, hydraulic cylinders, motors, tires, worm gear reducers, and worm operators, providing solutions for agricultural machinery manufacturers and distributors worldwide. All products can be customized on request.
We have a complete quality management system and sales and service network to provide our customers with quality products and satisfactory services. Our products are sold to 36 countries and regions around the world and our main market is the European market. 
Main Products
Packaging & Shipping
Certifications
We have been researching and manufacturing a wide range of gearbox reducers and mechanical components. We have obtained certificates including ISO9001, several gearbox patents, SGS, BV, etc.
FAQ
Q: Are you a trading company or manufacturer?
A: We're factory and providing gearbox ODM & OEM services for the European market for more than 10 years
Q: Do you provide samples? is it free or extra?
A: Yes, we could offer the sample for free charge but do not pay the cost of freight.
Q: How long is your delivery time? What is your terms of payment?
A: Generally it is 40-45 days. The time may vary depending on the product and the level of customization.
For standard products, the payment is: 30% T/T in advance,balance before shipment.
Q: What is the exact MOQ or price for your product?
A: As an OEM company, we can provide and adapt our products to a wide range of needs.
Thus, MOQ and price may greatly vary with size, material and further specifications; For instance, costly products or standard products will usually have a lower MOQ. Please contact us with all relevant details to get the most accurate quotation.
If you have another question, please feel free to contact us.
| | |
| --- | --- |
| Application: | Motor, Machinery, Agricultural Machinery |
| Function: | Distribution Power, Clutch, Change Drive Torque, Change Drive Direction, Speed Changing, Speed Reduction, Speed Increase |
| Layout: | Fcda |
| Hardness: | Hardened Tooth Surface |
| Installation: | Vertical Type |
| Step: | Double-Step |
Samples:

US$ 500/Piece

1 Piece(Min.Order)

Worm Gearbox Applications in Robotics and Automation

Worm gearboxes play a crucial role in various robotics and automation applications due to their unique characteristics and benefits. Here are some common applications where worm gearboxes are used:

Robotic Arm Movement: Worm gearboxes are employed in robotic arms to provide precise and controlled movement. The self-locking property of worm gearboxes helps maintain the arm's position without requiring additional brakes.
Conveyor Systems: In automated production lines, worm gearboxes are used to drive conveyor belts and move materials or products along assembly lines with accuracy.
Precision Positioning: Worm gearboxes are used in precision positioning systems, such as those found in pick-and-place robots and CNC machines. They ensure accurate and repeatable movements.
Pan and Tilt Mechanisms: Worm gearboxes are utilized in pan and tilt mechanisms of surveillance cameras, robotic cameras, and sensors. The self-locking feature helps stabilize and maintain the desired angle.
Automated Gates and Doors: Worm gearboxes are used in automated gate and door systems to control their opening and closing movements smoothly and safely.
Material Handling: Robots in warehouses and distribution centers use worm gearboxes to manipulate and lift objects, enhancing efficiency in material handling.
Medical Robotics: Worm gearboxes are employed in medical robots for surgical procedures, diagnostic equipment, and rehabilitation devices, ensuring precise and controlled movements.
Industrial Robots: Industrial robots rely on worm gearboxes for various tasks, including welding, painting, assembly, and packaging, where precise movements are essential.
Automated Testing Equipment: In testing and inspection applications, worm gearboxes provide the necessary movement and positioning for accurate testing and measurements.
Food and Beverage Industry: Worm gearboxes are used in automated food processing and packaging systems, ensuring hygienic and precise movement of products.

Worm gearboxes are preferred in these applications due to their compact size, high torque output, self-locking feature, and ability to provide a right-angle drive. However, selecting the right gearbox requires considering factors such as load, speed, efficiency, and environmental conditions.

|
Request Sample
Customization:

Available

|

Customized Request

Is it Possible to Reverse the Direction of a Worm Gearbox?

Yes, it is possible to reverse the direction of a worm gearbox by changing the orientation of either the input or output shaft. However, reversing the direction of a worm gearbox can have some implications that need to be considered:

Efficiency: Reversing the direction of a worm gearbox can potentially affect its efficiency. Worm gearboxes are typically more efficient in one direction of rotation due to the design of the worm and worm wheel.
Backlash: Reversing the direction of rotation might lead to increased backlash or play in the gearbox, which can impact precision and smooth operation.
Lubrication: Depending on the gearbox's design, reversing the direction could affect lubrication distribution and lead to uneven wear on the gear teeth.
Load: Reversing the direction might also impact the gearbox's load-carrying capacity, especially if it's designed for predominantly one-way operation.
Noise and Vibration: Direction reversal can sometimes result in increased noise and vibration due to changes in gear engagement and meshing behavior.

If you need to reverse the direction of a worm gearbox, it's advisable to consult the gearbox manufacturer's guidelines and recommendations. They can provide insights into whether the specific gearbox model is suitable for reversible operation and any precautions or adjustments needed to ensure proper functioning.
Types of Worm Gear Configurations and Their Uses
Worm gear configurations vary based on the arrangement of the worm and the gear it engages with. Here are common types and their applications:
Single Enveloping Worm Gear: This configuration offers high torque transmission and efficiency. It's used in heavy-duty applications like mining equipment and industrial machinery.
Double Enveloping Worm Gear: With increased contact area, this type provides higher load capacity and improved efficiency. It's used in aerospace applications, robotics, and precision machinery.
Non-Throated Worm Gear: This type has a cylindrical worm without a throat. It's suitable for applications requiring precise motion control, such as CNC machines and robotics.
Throated Worm Gear: Featuring a throat in the worm, this configuration offers smooth engagement and higher load capacity. It's used in conveyors, elevators, and automotive applications.
Non-Modular Worm Gear: In this design, the worm and gear are a matched set, resulting in better meshing and efficiency. It's utilized in various industries where customization is essential.
Modular Worm Gear: This type allows interchangeability of worm and gear components, providing flexibility in design and maintenance. It's commonly used in conveyors, mixers, and material handling systems.
Selecting the appropriate worm gear configuration depends on factors such as load capacity, efficiency, precision, and application requirements. Consulting gearbox experts can help determine the best configuration for your specific needs.



editor by CX 2023-08-16
Merchandise Description
Goods Description
| | |
| --- | --- |
| Kind | WPA gears,gearboxes,transmission |
| Dimensions | 40-250 |
| Ratio | ten,fifteen,twenty,twenty five,30,forty,fifty,sixty |
| Mounting Position | Foot mounted, flange mounted |
| Output Type | Reliable shaft, hollow shaft |
| Content of Housing | Casting Iron |
| Materials of Shaft | Chromium metal |
| Bearing | REN BEN.CU |
Technical Parameters

Packing and shipping and delivery

Our certificate

Customer visit
Business Profile
HangZhou HangZhoun Machinery Co., Ltd. is a expert machinery production company, with twenty many years of experience in the area of machinery production and the potential of impartial study and growth. Our goods count on sophisticated engineering, trustworthy high quality, excellent prices to get the believe in of customers. The products are sold to more than fifty nations all above the planet, and have a good cooperative partnership with buyers. Our items appreciate a a single-12 months guarantee service for key components, and our 24-hour technological group offers client support.
| | |
| --- | --- |
| Application: | Machinery |
| Function: | Speed Changing, Speed Reduction, Speed Increase |
| Layout: | Cycloidal |
| Hardness: | Hardened Tooth Surface |
| Installation: | Horizontal Type |
| Step: | Three-Step |
###
###
| | |
| --- | --- |
| Type | WPA gears,gearboxes,transmission |
| Size | 40-250 |
| Ratio | 10,15,20,25,30,40,50,60 |
| Mounting Position | Foot mounted, flange mounted |
| Output Form | Solid shaft, hollow shaft |
| Material of Housing | Casting Iron |
| Material of Shaft | Chromium steel |
| Bearing | REN BEN.CU |
| | |
| --- | --- |
| Application: | Machinery |
| Function: | Speed Changing, Speed Reduction, Speed Increase |
| Layout: | Cycloidal |
| Hardness: | Hardened Tooth Surface |
| Installation: | Horizontal Type |
| Step: | Three-Step |
###
###
| | |
| --- | --- |
| Type | WPA gears,gearboxes,transmission |
| Size | 40-250 |
| Ratio | 10,15,20,25,30,40,50,60 |
| Mounting Position | Foot mounted, flange mounted |
| Output Form | Solid shaft, hollow shaft |
| Material of Housing | Casting Iron |
| Material of Shaft | Chromium steel |
| Bearing | REN BEN.CU |
Worm Reducer
Worm reducers are commonly used to reduce the Agknx produced by a rotating shaft. They can achieve reduction ratios of five to sixty. In contrast, a single-stage hypoid gear can achieve up to a 120:1 reduction ratio. For further reduction, another type of gearing is used. So, a single stage worm reducer cannot achieve higher ratios than these.<br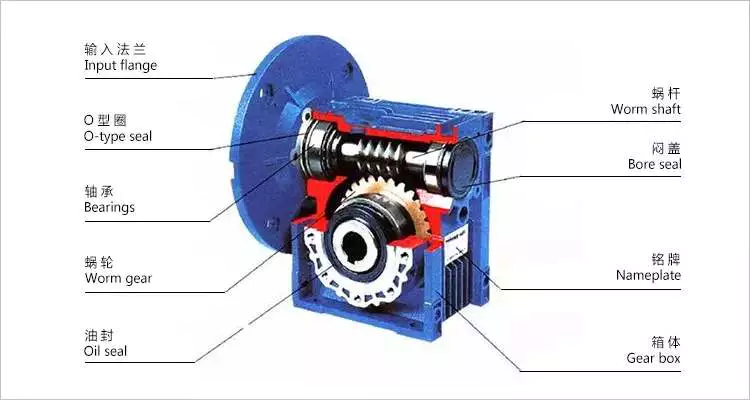 Mechanics
A worm reducer is an auxiliary mechanical device that uses worms to reduce the size of a rotating shaft. These worms have a range of tooth forms. One form is a line weave twist surface. Another is a trapezoid based on a central cross section. The trapezoid can be perpendicular to the tooth cross section, or it can be normal to the root cross section. Other forms include involute helicoids and convolute worms, which use a straight line intersecting the involute generating line.
Worm gears are lubricated with a special lubricant. Because worm gears are complex, it's important to use the correct lubricant. Worm gear manufacturers provide approved lubricants for their gears. Using unapproved gear oil can damage your reducer's efficiency. The right lubricant depends on several factors, including load, speed, duty cycle, and expected operating temperatures.
The efficiency of a worm gear reducer depends on several factors, including losses at gear mesh, losses in the bearings, and windage in the oil seal lip. In addition, the worm gear reducer's efficiency varies with ambient temperature and operating temperature. The worm gear reducer's efficiency can also vary with the ratio of the load. Moreover, worm gear reducers are subject to break-in.
Worm gear reducers are used in many different applications. They are typically used in small electric motors, but they're also used in conveyor systems, presses, elevators, and mining applications. Worm gears are also commonly found in stringed musical instruments.
Worm gears have excellent reduction ratios and high Agknx multiplication, and they're often used as speed reducers in low to medium-speed applications. However, the efficiency of worm gear reducers decreases with increasing ratios.
Sizes
Worm reducers come in different sizes and tooth shapes. While the tooth shape of one worm is similar to the other, different worms are designed to carry a different amount of load. For example, a circular arc worm may have a different tooth shape than one with a secondary curve. Worm gears can also be adjusted for backlash. The backlash is the difference between the advancing and receding arc.
There are two sizes of worm reducers available from Agknx Transmission. The SW-1 and SW-5 models offer ratios of 3.5:1 to 60:1 and 5:1 to 100:1 respectively. The size of the worm reducer is determined by the required gear ratio.
Worm gears have different thread counts. One is based on the central cross-section of the worm, and the other is on the right. Worm gears can have either a single or double thread. Single-threaded gears will reduce speed by 50 percent, while double-threaded gears will reduce speed by 25 percent.
Worm gear reducers are lightweight and highly reliable. They can accommodate a variety of NEMA input flanges and hollow output bore sizes. Worm reducers can be found at 6 regional warehouses, with prepaid freight. To make a purchasing decision, you should consider the horsepower and Agknx requirements of your specific application.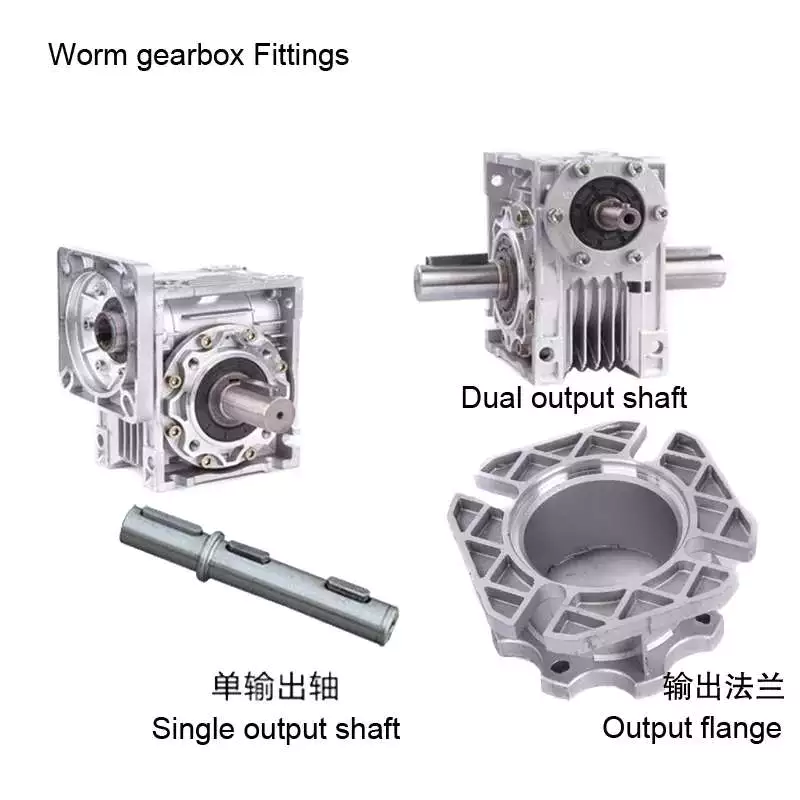 Applications
The Worm Reducer market is a global business that is dominated by the North American and European regions. The report provides in-depth information on the market trends, key challenges, and opportunities. It also examines the current state of the industry and projects future market growth. The report is organized into segments based on product type, major geographical regions, and application. It also presents statistics and key data about the market.
Worm gear reducers have many applications. They can be used to increase the speed of convey belts. They also help reduce noise. Worm gears have many teeth that touch the gear mesh, which makes them quieter. Moreover, the worm gears require only a single stage reducer, reducing the number of moving parts in the system.
The worm gear has long life and is suitable for different industries. It is a perfect choice for elevators and other applications that need fast stopping and braking. Its compact size and ability to hold a load make it suitable for these applications. It also prevents the load from free-falling as a result of a sudden braking. Worm gears can also be used in heavy-duty machinery such as rock crushers.
Worm gears are similar to ordinary gears except that they transfer motion at a 90-degree angle. As a result, the worm gears are extremely quiet, making them a suitable option for noise sensitive applications. They are also excellent for low-voltage applications, where the noise is critical.
Worm gears are ideal for applications with space restrictions, because they require fewer gear sets. The worm gears also allow for a smaller gearbox size. Consequently, they are the perfect choice for machines that are space-constrained, such as conveyors and packaging equipment.
Cost
The lifespan of a worm gear reducer is comparable to other gear reducers. Worm gears have a long history of innovation and use in various industries, from shipbuilding to automobile manufacturing. Today, these gear reducers are still popular with engineers. However, there are some things to keep in mind before buying one.
In the first place, a worm reducer needs to be affordable. Generally, a worm reducer costs about $120. The price varies with the brand name and features. Some products are more expensive than others, so be sure to shop around for the best price. In addition, it is important to consider the quality and design of the worm reducer before making a purchase.
Worm gear manufacturers have made significant advancements in materials, design and manufacturing. These advancements, along with the use of advanced lubricants, have resulted in significant increases in efficiency. For example, double enveloping worm gear reducers have improved efficiency by three to eight percentage points. This improvement was achieved through rigorous testing of manufacturing processes and materials. With these improvements, worm gear reducers have become more desirable in today's market.
Worm reducers are extremely versatile and reliable, and are available in a variety of sizes. Domestic manufacturers usually stock a large selection of reducers, and are often able to ship them the same day you place your order. Most major domestic worm gear reducer manufacturers also share some critical mounting dimensions, such as the output shaft diameter, the mounting hole location, and the overall reducer housing height. Most manufacturers also offer standardized gear ratios. Some manufacturers have also improved gear design and added synthetic lubricants for better performance.
In addition, different tooth shapes of worms can increase their load carrying capacity. They can be used on secondary curves and circular arc cross sections. Moreover, the pitch point defines the boundary of the cross section. The mesh on the receding arc is smoother than that of the advancing arc. However, in the case of negative shifting, most of the mesh is on the receding arc.


Self-locking function
A worm reducer has a self-locking function. When a worm is fitted with all of its addendum teeth, the total number of teeth in the system should be greater than 40. This self-locking function is achieved through the worm's rack and pinion mechanism. The worm's self-locking feature can prevent the load from being dropped and is useful for many applications.
The self-locking function of a worm reducer is possible for two main reasons. First of all, a worm reducer uses two or more gears. One gear is placed at the input, and the other gear runs the output shaft. This mechanism produces a torque, which is transmitted to a spur gear.
Worm reducers can be used in a variety of industrial applications. Because of their self-locking function, they are useful for preventing back-driving. They are also helpful for lifting and holding loads. Their self-locking mechanism allows for a large gear reduction ratio without increasing the size of a gear box.
Self-locking gears can be used to prevent back-driving and inertial driving. This is useful for many industries and can prevent backdriving. However, one major disadvantage of self-locking gears is their sensitivity to operating conditions. Lubrication, vibration, and misalignment can affect their reliability.
Embodiments of the invention provide a self-locking mechanism that prevents back-driving but allows forward-driving. The self-locking mechanism may comprise first and second ratchet cams disposed about a gear member. A releasable coupling member may be interposed between the gear member and the ratchet cam. This facilitates selective coupling and decoupling.
The worm reducer has several advantages. Its compact design is ideal for many mechanical transmission systems. It also provides greater load capacity than a cross-axis helical gear mechanism.



editor by czh 2022-12-07